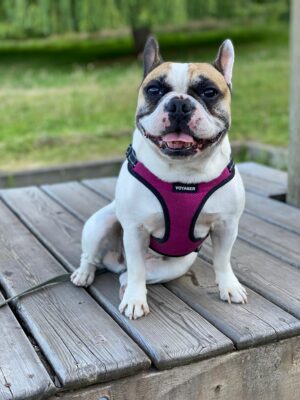 Violet is a sweet 5-year-old French Bulldog & was an owner surrendered in June 2021 due to chasing the household cat. Violet arrived in need of dental surgery and had 3 lower incisors and 1 upper pre-molar removed. While in the care we have been working very hard on Violet's impulse control around small animals. She had extreme prey drive with smaller animals and the reason for her surrender. She is wonderful with people and little people. Violet has learned so many queues while in care and has been thriving in her foster home. Violet is available for adoption. She will need a home with no small animals and will be required to be an on-leash dog always. Violet is not a dog park dog as she doesn't want to be friends with all dogs but can mingle with dogs she has been properly introduced to on her terms.  Violet would love a home as a solo dog & no small animals that are active and can hike with her and play. She loves her downtime and loves to snuggle. She will happily sleep in your bed or her bed. Violet is kennel trained but prefers not to use a kennel. Violet can be left alone in her home for hours with no issues. She will happily nap on the couch while you are out. Violet is on special food to keep her skin happy & on Flea/Tick treatment every 12 weeks. Otherwise Violet has no medical issues. 
Species: Canine
Gender: Female
Age: 5 yr Breed:
French Bulldog Spayed: Yes
Vaccinated: Up to date including Rabies & Lepto
Microchipped: Yes
If you think you can meet all Violet's needs and demands, please send an application by clicking here to apply. Home Check, Reference check will take place for any approved applications. Violet will be placed into a foster to adopt before an adoption will be finalized, this is standard for all our squishy faces. We do not straight adopt any of our dogs.  It will be a couple of weeks before we contact anyone so please don't message a million times. Thanks for understanding how super busy we are & the time we take to care of homeless bulldogs.