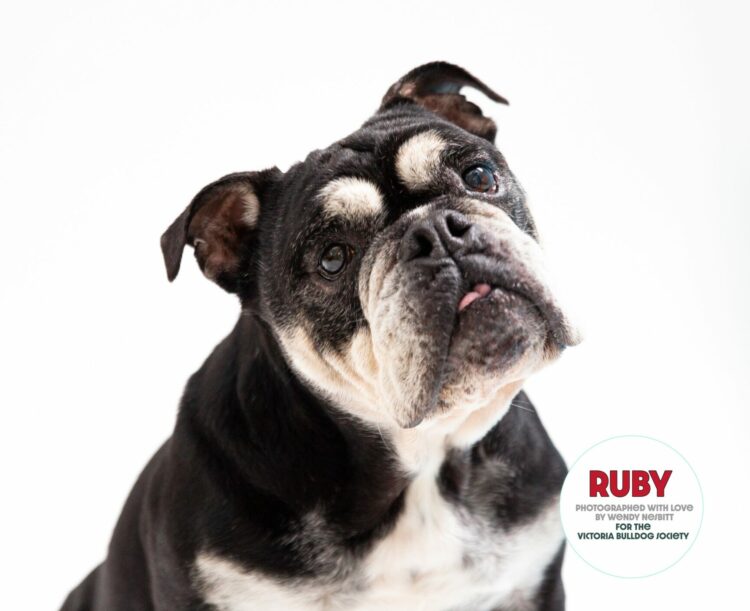 Meet Ruby, the sweetest senior Bulldog you'll ever meet! At 11.5 years old, she may have a few grey hairs, but don't let that fool you – she's still got some spunk in her step! Ruby loves her daily 20-30-minute walks and will even jump onto the couch for a good nap afterwards. She's also a pro at giving kisses and receiving belly rubs.
Ruby gets along great with other dogs, but she's not a big fan of puppy shenanigans – who can blame her, though? She likes cats and could live with a dog-savvy cat but not tested with small animals, but she's a lover of all people, including kids.
Ruby just had a major dental surgery & a splenic torsion with gastropexy a life-saving surgery. As well as she had a mass cell cancer lump removed from her back leg, and is now recovered. Ruby makes the best snorting noises – it's too cute! She's also on new food to help improve her skin & it's looking great. The only medication she's on right now is Bravecto & Gabapentin, but she's otherwise healthy as can be.
If you have any questions about Ruby, send us a PM! We want a quiet home with no young kids, and she can go with or without an older respectful dog or very well-mannered dog and potentially a dog saavy cat. And if you think you're the perfect match for this sweet senior girl, fill out an adoption application today!  More to come on Ruby's Bio soon!
Species: Canine
Gender: Female
Age:  11.5 yrs old
Breed: English Bulldog
Spayed: Yes
Vaccinated: Up to date including Rabies & Lepto
Microchipped: Yes
If you think you can meet all Ruby's needs and demands, please send an application by clicking here to apply. Home Check, Reference check will take place for any approved applications. Ruby will be placed into foster to adopt before an adoption will be finalized; this is standard for all our squishy faces. We do not straight adopt any of our dogs.  It will be a few weeks before we contact anyone so please don't message a million times. Thanks for understanding how super busy we are & the time we take to care of homeless bulldogs with medical issues.