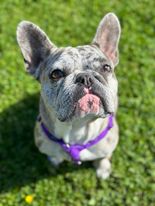 Allow us to introduce Remi, the charming and energetic French Bulldog with a personality as unique as her coat! At just 3 years old, she may not sport the standard breed colors, but rest assured, she's a French Bulldog through and through, complete with all the quirks and charm!
Remi is a little dynamo who adores her daily 30-45 minute walks. Be prepared, though, because she's quite the enthusiastic puller (we're working on it). Future adopters should be ready to continue her leash training adventures. But let's talk toys—Remi's absolute favorite is the Chuckit Ball. She's a self-proclaimed ball enthusiast, chasing it all over the house, up the stairs, and even tossing it down for another exhilarating round of play.
When it's time for relaxation, Remi has mastered the art of couch jumping. A nap or a snuggle session is her idea of heaven, and she must be in physical contact with you. She's a true pro at giving kisses and will gladly accept belly rubs as part of her royal treatment. While she currently enjoys snoozing in her foster parents' bed under the covers, we're diligently working on her transition to a bed of her own next to her humans' slumber space.
Remi is a social butterfly when it comes to other dogs, although she's not exactly keen on sharing her prized, high-value bones with anyone—can you blame her? As for cats, she simply sees them as potential playmates, but most felines don't share her enthusiasm for shenanigans. Therefore, a forever home without cats or small animals would be ideal. While Remi adores people, she can be selective about the men she shares her domain with, and we're actively working on expanding her circle of male admirers. Additionally, small children who may not understand boundaries are not the best match for Remi, so a kid-free home would be the perfect fit.
In the realm of health, Remi has recently undergone major eye surgery due to a corneal ulcer rupture. Fortunately, she has fully healed after a successful conjunctival graft. Annual follow-ups for her eye will be necessary, and immediate attention is required if any issues arise with the graft. Currently, she requires no drops, and her next follow-up is in approximately 9-10 months. Prior to her arrival, Remi had an issue with IVDD (intervertebral disc disease), which we've managed with anti-inflammatories and pain medication. She's back to her cheerful self now, but please be aware that IVDD may pose future challenges as she has one weak disc. Agility and sports championships might not be in her future, but she's a champion at stealing hearts! Additionally, Remi is on a special diet to maintain her fabulous skin, as she's prone to infections in her feet and ears if exposed to allergenic foods. So, it's strict special food only for this fabulous Frenchie. Fear not, though, Remi is protected from fleas and ticks year-round with Bravecto and is otherwise as healthy as can be.
If you're ready to embark on a hilarious adventure with a French Bulldog who's full of character, Remi is here to make every day an unforgettable experience! Get ready for laughter, snuggles, and endless love with this one-of-a-kind pooch.
If you have any questions about Remi, send us a PM! We want a quiet but active home with no young kids/cats, and she can go with or without an older respectful dog or very well-mannered younger dog. And if you think you're the perfect match for this sweet girl, fill out an adoption application today!  
Species: Canine
Gender: Female
Age:  3 yrs old
Breed: French Bulldog
Spayed: Yes
Vaccinated: Up to date including Rabies & Lepto
Microchipped: Yes
If you think you can meet all Remi's needs and demands, please send an application by clicking here to apply. Home Check, Reference check will take place for any approved applications. Remi will be placed into foster to adopt before an adoption will be finalized; this is standard for all our squishy faces. We do not straight adopt any of our dogs.  It will be a few weeks before we contact anyone so please don't message a million times. Thanks for understanding how super busy we are & the time we take to care of homeless bulldogs with medical issues.