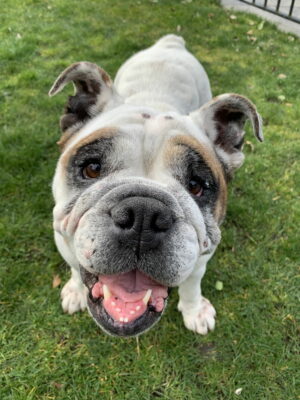 ADOPTED! Massa will be officially adoptable in a couple weeks once she's recovered from her entropion surgery & fully vaccinated. Massa – Single and ready to mingle! I mean she's the real deal and looking for a forever commitment! That's right no one night stands and promises you can't keep! Must tolerate snoring, barking, drooling, kisses, sharing your food & snuggles even when you are too hot to snuggle & your legs are numb from 70lbs of the cutest bulldog squishing you.
Species: Canine
Gender: Female
Age: 3-4yrs Approx
Breed: English Bulldog, Mix cause we don't have registration papers. You want papers go to a reputable breeder! We are only a reputable rescue.
Spayed: Yes
Vaccinated: In progress
Microchipped: Yes
Medical: Moderate Arthritis in both knees, Hip Dysplasia and Arthritis in both hips more so on right.
Skin Issues… yup she's a Bulldog. A bulldog that doesn't meet breed standard for size, shape or anything so genetics are probably crap from backyard breeding.  Yet no worries she's still cute, squishy bulldog with typical Bulldog medical – so get to your know veterinarian on a 1st name bases!  
Medications: Metacam (Life Long) & Cartophen injections (Life Long), Bravecto (Flea & Tick Prevention), Cytopoint Injections, Speciality Food (Yes that's right you have to feed the good stuff – no cheap crap for this girl, it's all the best quality food from now on)
Adoptable Area: Vancouver Island, BC, Canada Only – Sorry Mainland peeps this girl loves island life way too much to go back.
Home Recommendations: Single Family Home/ Fenced Yard – You better have really nice neighbours that won't complain about your new bulldog barking for all the attention.  Massa has been lacking attention for the last 3yrs so she's making up for it now & will talk your ear off telling you all about it.  No manners she will even interrupt your conversation with a neighbour to tell you about the attention you are not giving her.
Kids: Yes, if they are at least 70-100 pounds and can handle a Bulldog taking them out for a soccer ball a stuffed animal or their snacks. If so, no worries she's great with kids! If you are a small statured person weighting a 100 pounds might want to look elsewhere.
Potty Trained: Yes, Massa will wait at the door for you to open it or pace at the door. So, you can't be hearing impaired as she will not bark at the door, only time she stops talking. She's got potential to be bell trained.
Couches: Yes, must have a comfy dog friendly couch. None of these no dogs allowed on the couch houses.
Crate Trained: Nope. Not at all. Prefers to sleep on the couch, comfy beds or sleep upside down in the sunshine when you are outside with her.
Dogs: Dog Friendly. Does lovely dog intro's and is pleased to meet new dogs that she would like to but doesn't need to meet everyone.  Plays well but does get over excited and needs to be recalled out before it gets cray cray (recall in progress) so you better be fast to be able to catch this 69lb lady before she gets over the top crazy. You'd think with bad knees she can't run fast but I assure you she is fast & strong and can take out even the big dogs with only a chest bump.
Prey Drive: Yup she's got drive and will chase anything that runs past her – So those small kids & dogs running past her look out!
Cats: Lets go with no but she has meet 2 dog savvy cats and was tolerant. No cat ran so not a fair assessment. I think with the prey drive we will keep it as dog friends & larger humans.
Massa came from a farm on the mainland where she was living tied outside. We understand this is infuriating and no animal should live like this. We are only looking for the best of the best forever home for this sweet girl. One that is financially able to care for all her means no matter what is required. Able to fulfill her physical needs for daily walks and hikes to keep building muscle and strength to keep her arthritis away.  She is highly food motivated, knows some basic obedience already, walks lovely on leash until she wants to take you in a new direction.  You need to be willing to put in the time and money to hire a trainer to get the basic's down and a solid recall. Training is not negotiable even during a pandemic trainers are still working! We are looking for someone to continue to make sure Massa is a great canine citizen.  She's got the best personality and the cutest little chiclet teeth that stick out, you can't not love that face .
If you think you can meet all her needs and demands, please send an application by clicking here to apply. Home Check, Reference check will take place for any approved applications. Dog intros will take place for only approved applications. Massa will be placed into a foster to adopt before an adoption will be finalized.
It will be a couple weeks before we contact anyone so please don't message a million times. Thanks for understanding how super busy we are & the time we take to care for homeless bulldogs."