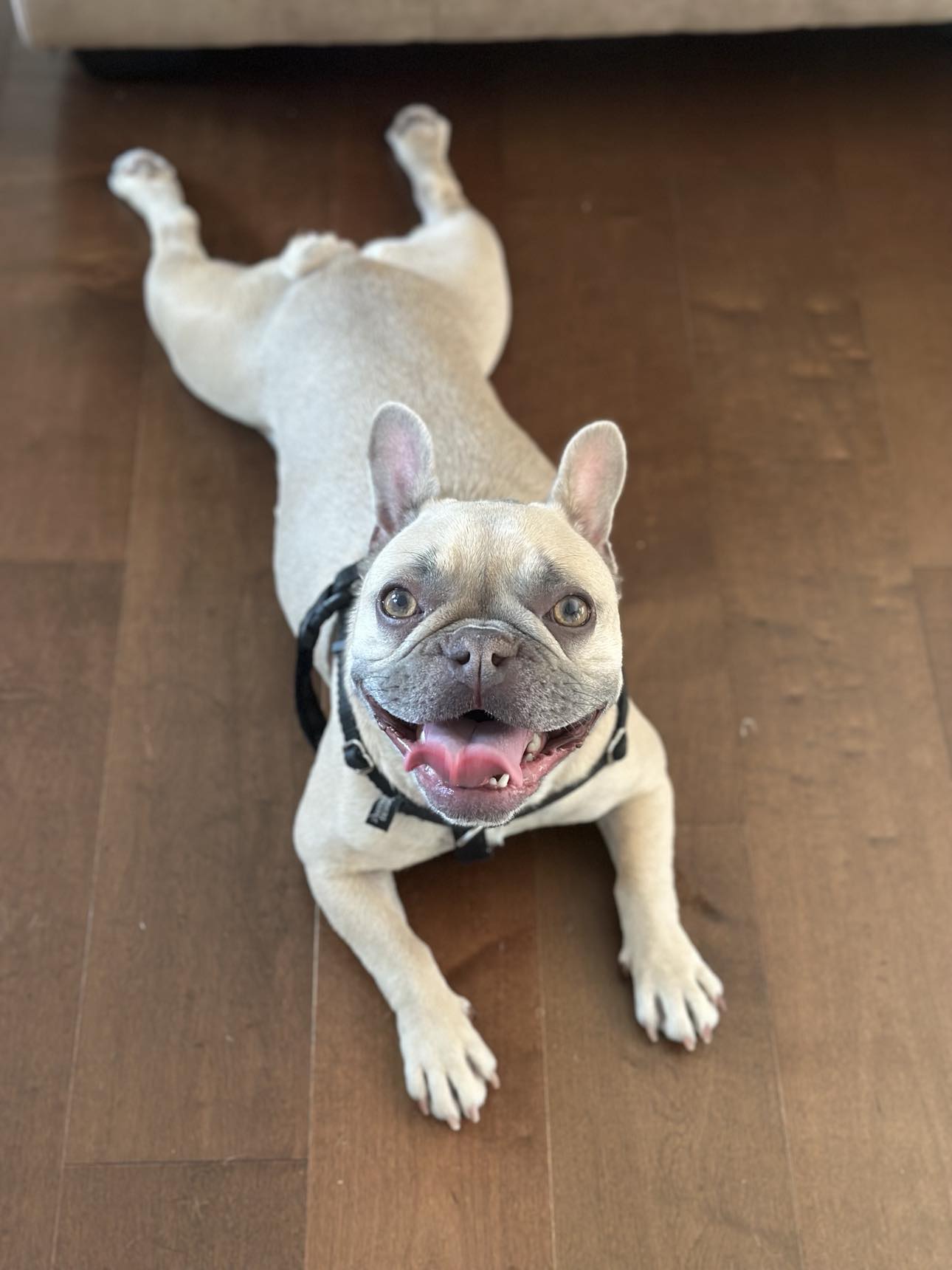 Meet Lola, the fabulous French Bulldog with a personality that shines brighter than her coat! Despite not sporting the typical breed colors, Lola is every bit a French Bulldog with all the charm and charisma you could ask for. At a sprightly 3 years old, she's ready to conquer the world with her delightful antics!
Lola is an active little pup who adores her daily 30-45 minute walks. Although she may pull on the leash (we're working on it), she's eager to learn and improve her walking etiquette. So, prospective adopters, be prepared to continue this important training journey with Lola! When it comes to toys, Lola is a true destroyer extraordinaire. She loves anything she can shake or demolish, providing endless entertainment for herself and her lucky humans.
While Lola dreams of gracefully hopping onto the couch, her short legs require a little assistance or a set of stairs to reach her cozy napping spot. Snuggling on the couch is one of her favorite pastimes, so get ready to cuddle up with this cuddle enthusiast. Lola has perfected the art of giving kisses and has no concept of personal space, so be prepared for an abundance of slobbery affection.
When it comes to bedtime, Lola is a true diva. She loves to sleep in bed and burrow under the covers if allowed. However, if you prefer her to have her own cozy spot next to your bed, she'll happily oblige without complaint.
While Lola is a friendly socialite, she could use a little guidance in the manners department when meeting new dogs. Barking and lunging aren't exactly the most polite greetings, but she's a quick learner and can get along with most furry friends. Cats, on the other hand, tend to find Lola's playful antics less amusing, so a forever home without feline residents would be ideal. Small animals should also steer clear of Lola's vivacious energy.
To maintain her fabulous appearance, Lola requires a special diet that keeps her skin healthy and vibrant. She must stick to this food and limit treats to avoid any skin flare-ups. Additionally, Lola is prone to ear infections if exposed to any allergenic foods. So, it's strict special food only for this fashionable Frenchie. Fear not, though, Lola is in excellent health otherwise and is protected from fleas and ticks year-round with Bravecto.
If you're ready to welcome laughter, love, and some seriously adorable antics into your life, Lola is waiting to be the star of your home! Get ready for a lifetime of joy, snuggles, and unforgettable moments with this one-of-a-kind French Bulldog.
If you have any questions about Lola, send us a PM! We want a quiet but active home with no young kids/cats, and she can go with or without an older respectful dog or a very well-mannered younger dog. And if you think you're the perfect match for this sweet girl, fill out an adoption application today!  
Species: Canine
Gender: Female
Age:  3 yrs old
Breed: French Bulldog
Spayed: Yes
Vaccinated: Up to date including Rabies & Lepto
Microchipped: Yes
If you think you can meet all Lola's needs and demands, please send an application by clicking here to apply. Home Check, Reference check will take place for any approved applications. Remi will be placed into foster to adopt before an adoption will be finalized; this is standard for all our squishy faces. We do not straight adopt any of our dogs.  It will be a few weeks before we contact anyone, so please don't message a million times. Thanks for understanding how super busy we are & the time we take to care of homeless bulldogs with medical issues.