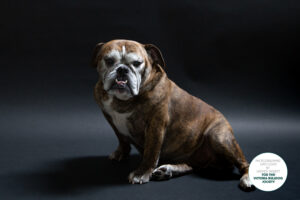 Looking for a sweet, spunky addition to your family? Look no further than Lemon! This spayed female English Bulldog may be 7-8 years old, but she's still got plenty of energy and love to give.
Lemon is great with dogs and loves kids and people of all ages, but she's not a fan of cats or small animals. She enjoys taking walks and playing with her best friend Kenny, and she's always up for some cuddles and belly rubs.
Don't be fooled by her grey face – Lemon is a young at heart girl who loves to make snorffle noises while searching for snacks. She's currently on a special diet to help improve her skin, and may require ongoing medical attention for her allergies. But don't let that deter you – Lemon is worth the extra TLC.
If you're interested in adopting Lemon, we're currently accepting applications for Foster to Adopt homes. Get in touch with us today to learn more about this lovable gal! More to come on Lemon's Bio soon!
Species: Canine
Gender: Female
Age:  7-8 yrs old
Breed: English Bulldog
Spayed: Yes
Vaccinated: Up to date including Rabies & Lepto
Microchipped: Yes
If you think you can meet all Lemon's needs and demands, please send an application by clicking here to apply. Home Check, Reference check will take place for any approved applications. Lemon will be placed into foster to adopt before an adoption will be finalized, this is standard for all our squishy faces. We do not straight adopt any of our dogs.  It will be a month before we contact anyone, so please don't message a million times. Thanks for understanding how super busy we are & the time we take to care of homeless bulldogs with medical issues.