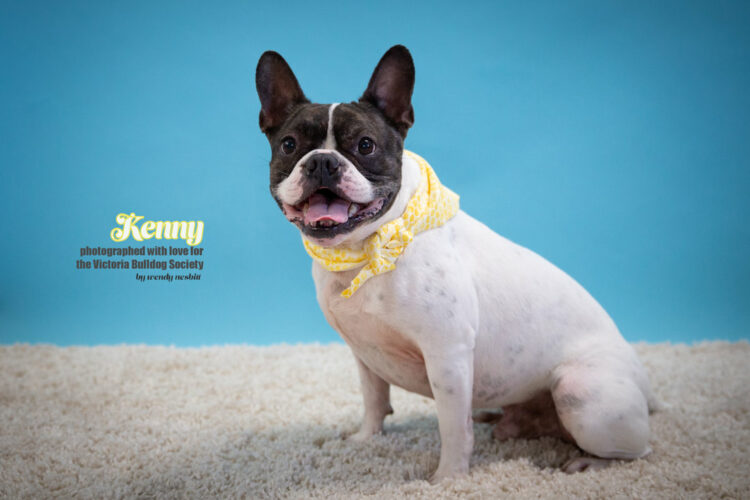 Looking for a furry friend who's equal parts goofy and lovable? Meet Kenny, the 7-year-old Frenchton (aka French Bulldog/Boston Terrier mix) who's sure to steal your heart!
Kenny is currently in foster care, and he's great with dogs he knows. He's currently living with three other furry friends, and while he can be reactive to dogs on leash, he's usually a real gentleman. He's also been cat tested and passed with flying colors and could live with an easy-going dog savvy cat, but he does have a bit of a prey drive when it comes to smaller animals.
When it comes to people, though, Kenny is an absolute sweetheart who loves to sleep on the bed with his humans and snuggle under the covers all night long. He's also a high-energy pup who loves to go for long walks – he can easily handle an hour and a half or more!
Kenny is on special food as we work to improve his skin, and he requires lifetime medical care for IVDD. But don't worry – he's on Gabapentin for life and Apoquel for his skin, so he's feeling great and ready for his forever home!
If you think you might be the perfect match for Kenny, we'd love to hear from you! Just complete an adoption application or contact us with any questions you might have. Let's find this silly, loving pup his perfect forever home!
More to come on Kenny's Bio soon!
Species: Canine
Gender: Male
Age:  7 yrs old
Breed: French Bulldog/Boston Terrier Mix
Spayed: Yes
Vaccinated: Up to date, including Rabies & Lepto
Microchipped: Yes
If you think you can meet all Kenny needs and demands, please send an application by clicking here to apply. Home Check, Reference check will take place for any approved applications. Lemon will be placed into foster to adopt before an adoption is finalized; this is standard for all our squishy faces. We do not straight adopt any of our dogs.  It will be a month before we contact anyone, so please don't message a million times. Thanks for understanding how super busy we are & the time we take to care of homeless bulldogs with medical issues.