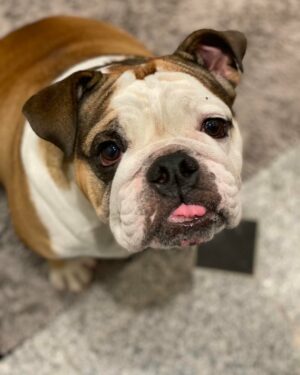 Imogene 6-year-old girl was an urgent intake. Her owner took her to the vet with aspirated pneumonia and due to financial restraints was not able to afford her medical bills and surrendered her. While in care she was treated for aspirated pneumonia, had soft palate surgery and had a hiatal hernia repair. In her first 4 weeks in care, she racked up $17K in emergency vet bills, emergency surgery and multiple nights in the emergency hospital and oxygen tank.  Currently, Imogene is doing amazing her breathing is wonderful and she no longer pukes after eating or playing. Imogene does have some minor skin issues that are slowly clearing up with food. She does require some basic obedience but we are working on that as she's in care. We will be looking for a dog-experienced home that will continue to use positive reinforcement training with her. Imogene loves attention and will bark at you if she's feeling ignored or wants attention. She requires at least 2 good walks a day and some one-on-one play to keep her up with her needs. Imogene loves interactive toys and is pretty skilled at working on them. This is something that will need to continue in a future home to keep her busy mind occupied. More to come on Imogene's Bio soon!
Species: Canine
Gender: Female
Age:  5 yrs
Breed: English Bulldog
Spayed: Yes
Vaccinated: Up to date including Rabies & Lepto
Microchipped: Yes
If you think you can meet all Imogene needs and demands, please send an application by clicking here to apply. Home Check, Reference check will take place for any approved applications. Imogene will be placed into a foster to adopt before an adoption will be finalized, this is standard for all our squishy faces. We do not straight adopt any of our dogs.  It will be a couple of weeks before we contact anyone so please don't message a million times. Thanks for understanding how super busy we are & the time we take to care of homeless bulldogs.