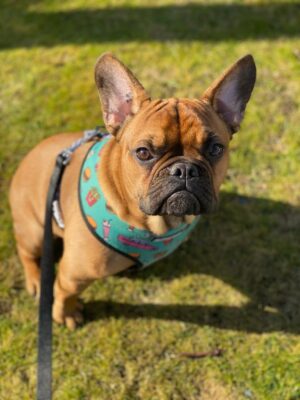 Bruce is a 1-year-old male French Bulldog that was surrendered in February. He arrived in need of the removal of two incisors and surgery to open up his nares. Bruce is scheduled for his surgery on May 4th. He is currently in foster care working on some obedience & manners as he awaits his surgery date. Bruce gets along amazingly with other dogs and is very appropriate. He will be best in a home with another very social well-balanced dog that likes to play and cuddle. Bruce requires some home structure to make him feel safe and loved. He truly loves his humans and just wants to be snuggling his human on the couch or out walking and exploring. Bruce will resource guard high-value bones and this is something we are working on with Bruce but he will trade his high-value item for a cookie. If no high-value bone/chew is present he doesn't resource any toys or food. Bruce is crate trained but rather be free-roaming but we have used the crate to help him feel safe and give him structure when his human needs to go out as he arrived with separation anxiety. Bruce is on medication in the morning to help with separation anxiety for when his foster mom leaves for work and it has truly helped keep him happy along with some interactive toys & safe kennel space to wait for her return. Bruce does jump when greeting new people and this is something we are working on so at this time home. 
Species: Canine
Gender: Male
Age: 1 yrs old
Breed: French Bulldog
Neutered: Yes
Vaccinated: Up to date including Rabies & Lepto
Microchipped: Yes
Future Home Requirements
Dogs: Yes 
Cats: To be Tested
Kids: No
Housing Needs: House/Townhouse – Sorry no apartments/condo living for Bruce
If you think you can meet all of Bruce's needs and demands, please send an application by clicking here to apply. Home Check, Reference check will take place for any approved applications. Bruce will be placed into a foster to adopt before an adoption will be finalized, this is standard for all our squishy faces. We do not straight adopt any of our dogs.  It can be a couple of weeks before we contact approved applications. Thanks for understanding how super busy we are & the time we take to care of homeless bulldogs.