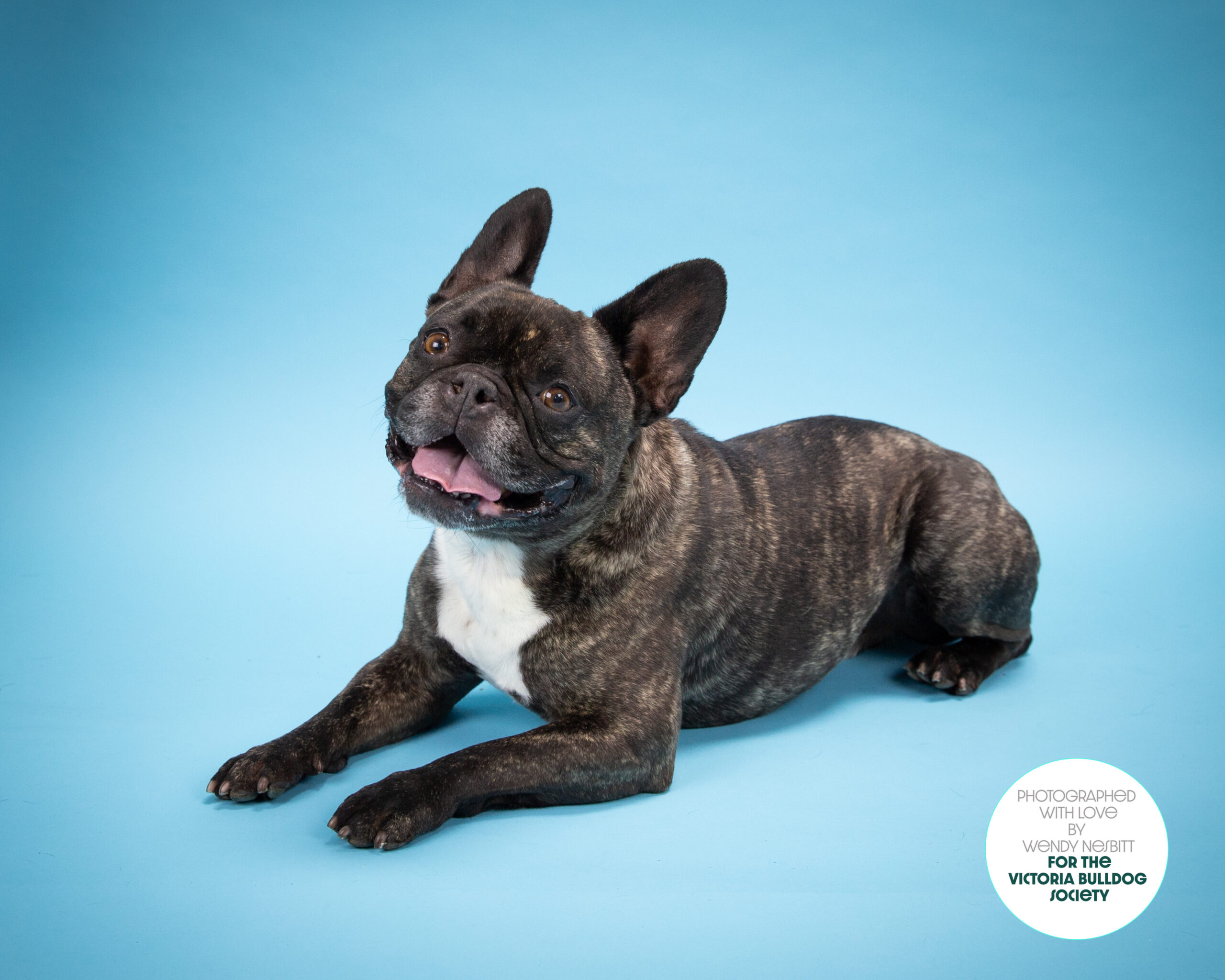 Meet Auggie, the delightful 8-year-old French Bulldog with a heart full of love and a personality that's impossible to resist. This bundle of joy celebrated his birthday in August, and we can assure you that he's the best gift you'll ever receive!
Auggie's journey has been one of love and resilience. He had spent his entire life with one loving family until a challenging situation arose. A playful moment involving fallen food and a tiny human led to his previous parents facing difficulty managing their interactions safely. With heavy hearts, they decided to surrender Auggie to a vet clinic. Fortunately, fate had other plans for this sweet boy, as caring individuals and an urgent foster came to his rescue, bringing him into our loving care.
Auggie is no stranger to canine companionship. He had a furry friend in the past, and now, he's in a foster home with three other dogs whom he adores. This spunky guy enjoys playing, chasing after his tail in joyful zoomies, and indulging in some friendly leg-chewing with his fellow doggos. Auggie needs a slow intro to new dogs as he can get very happy and excited and nips in all the excitement. 
About five years ago, Auggie faced a back injury that gave him a unique walk on his hind legs. He may not be a superhero, but those adorable ears make him believe he can fly off every couch!
His quirks are endearing:
– He has a unique way of kicking back dirt and grass with his front feet after peeing, making potty time a charming spectacle.
– Auggie transforms into "Auggie Augborne" when he goes wild for the hose, broom, or vacuum, and he's your personal rockstar when it comes to impromptu "Crazy Train" performances.
– Occasionally, his funky back legs lead to comical wipeouts on laminate flooring, but he's back on his paws in no time.
– If you're hoping for a lazy morning, be prepared for his gentle Bark wake-up at 8:00 am because mealtime is his absolute favorite.
– Auggie is a quick learner, mastering commands like 'sit,' 'lay down,' and 'shake.'
– He's a big-dog enthusiast, getting along famously with both males and females.
– Auggie holds a master's degree in cuddling with people, and his affectionate nature will warm your heart.
– When happiness overwhelms him, his licker goes into overdrive, spreading love one lick at a time.While Auggie may have some resource-guarding tendencies, rest assured that we're working diligently to help him grow in this aspect. Auggie also cat tested reasonably well but would need a dog-savvy cat but probably would prefer a home without a kitty. 
Auggie is a charming character with so much love to give. Auggie is your guy if you're looking for a loyal companion with an infectious spirit. Don't miss the chance to welcome this lovable French Bulldog into your heart and home. Adopt Auggie, and get ready for a lifetime of laughter, cuddles, and unforgettable moments together!
If you have any questions about Auggie, send us a PM! We want a quiet but active home with no young kids, and he can go with or without a respectful dog or a very well-mannered younger dog. And if you think you're the perfect match for this Auggie, fill out an adoption application today!  
Species: Canine
Gender: Male
Age:  8 yrs old
Breed: French Bulldog
Neutered: Yes
Vaccinated: Up to date including Rabies & Lepto
Microchipped: Yes
If you think you can meet all Auggie needs and demands, please send an application by clicking here to apply. Home Check, Reference check will take place for any approved applications. Auggie will be placed into foster to adopt before an adoption will be finalized; this is standard for all our squishy faces. We do not straight adopt any of our dogs.  It will be a few weeks before we contact anyone, so please don't message a million times. Thanks for understanding how super busy we are & the time we take to care of homeless bulldogs with medical issues.