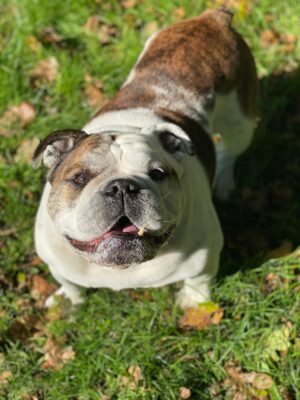 Bruno is an 8-year-old Olde English Bulldog who came into care when his human passed away in April. He arrived morbidly obese & struggled to breathe. While in the care Bruno has been on a weight loss plan and has lost over 20 lbs. Bruno has had dental surgery (all of his incisors were rotten and needed extracting) and x-rays of his back end showed moderate arthritis in both knees and hips with spondylitis of the lower spine. Bruno also has several behavioural issues that are being worked on with a trainer's guidance and implemented in his foster home.  Bruno has been used to being a solo dog for 7 yrs and will only be placed in a new home as a solo dog. Bruno did bark ongoing for all car rides but training has decreased this to almost nothing. He gets pretty excited in the car when he knows he's going to his favourite place. So this will require ongoing management to keep him from the bark in the car, yet very easy to deal with. Bruno does enjoy the company of some dogs but is particular about his doggie friends. Bruno has been a cat and small animal tested and is not suited to live with either. Bruno is ready for his retirement dream home with a single person or couple, no kids as he likes his quiet time with a nice couch, and a couple of daily walks. Bruno walks 2-3 times daily 2 x 20 mins (strolls) and one nice 45 min walk and loves checking out new places. 
Bruno is on Metacam for life due to this arthritis and spondylitis and may require more meds as he ages. Bruno does have some skin allergies but we have that controlled with this food. Bruno does have a history of ear infections and cleaning his ears is very important to keep on top of. 
Species: Canine
Gender: Male
Age: 8yrs
Breed: Olde English Bulldog
Neutered: Yes
Vaccinated: Up to date including Rabies & Lepto
Microchipped: Yes
If you think you can meet all Bruno's needs and demands, please send an application by clicking here to apply. Home Check, Reference check will take place for any approved applications. Bruno will be placed into a foster to adopt before an adoption will be finalized, this is standard for all our squishy faces. We do not straight adopt any of our dogs.  It can be a couple of weeks before we contact approved applications. Thanks for understanding how super busy we are & the time we take to care of homeless bulldogs.